I can't remember where I read it but someone wrote that the Piazza San Marco is really beautiful at night. So in the evening after a quick nap and chat with a friendly Slovenian in the hostel, I set off.
I had just gotten into Venice that morning after a 10-hour bus ride and I spent the day exploring. It still remains the most unique city I have ever been to. For one thing, there were no buses. There were no vehicles at all. Instead you had 'vaporetti' (water buses) which combined with boat stops, route numbers and schedules formed the public transport system. Nonetheless, I was pondering whether this late trip would be worth it as I was dead tired.
On route to the piazza, the scene got more and more picturesque. It was around 8PM but the sun was just starting to go down. The city looked amazing during the day but the golden hours made it even better. I was not planning to catch the sunset but I'm sure glad that I did.
Eventually the city lights came on which along with the dimming sun, the venetian buildings and the reflections of the light on the water, set an amazing stage. I was mesmerized and endlessly taking photos of everything around just like everyone else on my vaporetti.
As the canal opened up, my attention drew to the massive cruise ship that was gliding on the open sea. As I continued snapping pictures of the ship, I distinctly remember an Italian gentleman tapping on my shoulder and pointing to the piazza that was now behind me. My mouth dropped open as I turned around. It is one of the most incredible sights I have seen and I struggled to contain myself.
After docking, I slowly strolled to the center of the piazza only to see another amazing sight. Hundreds of lights had lit up across the buildings surrounding the piazza with the crescent moon hovering over the tall Campanile. I just wished that I had someone to share this experience with. I didn't want to leave. However, an hour later (as verified by the timestamps on my photos), I gave into the cold and returned.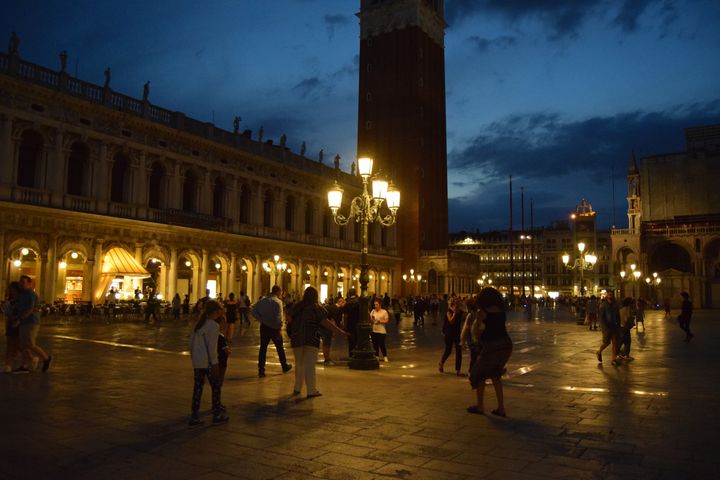 Cliché as it is, this trip was romantic and that romance was not lost even on my lone, cynical self. Someday when I finally find someone, I will bring her here I thought to myself.